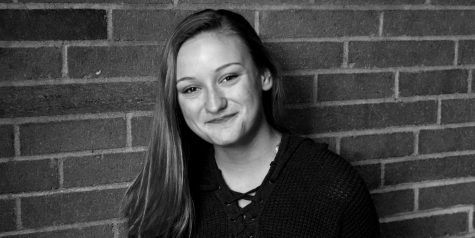 Hannah Andrews is a junior and works for the
Beak 'n' Eye
at West High School.
Andrews lives with her grandparents, but when asked who her greatest influence is she cited her older sister, who was her role model through childhood.
Her sister told her she should participate in school activities, and her mom inspired her to do newspaper because her mother had done it in high school.
In her free time Andrews works a lot-about 30 hours a week over summer break. She has a customer service job at HyVee.
Andrews plans to take dual-credit college courses to finish out her last two years of high school. She finds psychology interesting and may pursue that in her future.
Written by Laurence Walker
Hannah Andrews, Reporter
Oct 26, 2018

Human of West: Melissa Wallace/Bertelsen

(Story/Media)

Oct 24, 2018

Finally finals

(Story/Media)

Sep 21, 2018

Fifty-eight students inducted into National Honors Society

(Media)

Sep 17, 2018

Homecoming week recap

(Media)

Sep 07, 2018

Lights, camera, action!

(Story)

May 30, 2018

Retiree: Martha Adams

(Story)

May 31, 2018

Moving On: Kelleen McFate

(Media)

May 25, 2018

Moving on: Amanda Loucks

(Media)

May 15, 2018

2018 Charity Week recap

(Media)

May 11, 2018

Charity Week: Freddy Falcon pageant

(Story)

May 09, 2018

Charity Week: Workout Wednesday

(Story/Media)

May 04, 2018

Mike Zeller visits Davenport West's biology classes

(Story/Media)

Apr 20, 2018

Madison Cousins awarded Dooley Scholarship

(Story/Media)

Apr 19, 2018

Humans of West: Ryan DeGeeter

(Story)

Apr 11, 2018

Humans of West: Doyle Massey

(Story/Media)

Apr 09, 2018

Did you know: tunnels under West

(Story)

Apr 04, 2018

Soccer holds trivia night for new scoreboard

(Story)

Mar 16, 2018

Hop off the anti-West band wagon

(Story)

Mar 12, 2018

Women of West: Amanda Loucks

(Story/Media)

Jan 29, 2018

West hosts MAC wrestling meet

(Story)

Jan 29, 2018

West students prepare for Iowa Assessments

(Story)

Jan 22, 2018

Falcon Theatre hosts 10-minute play festival

(Story/Media)